SUSTAINABLE LUXURY WASHROOM HIRE
Nomadic Washrooms has included sustainability at its heart since we launched back in 2019. We make sure that choosing one of our Nomadic Washrooms' fleet is a positive for you and your event, but also a positive for the world.
Minimise Our Negative Impact
Maximise Our Positive Impact
Nomadic Washrooms has included sustainability at its heart since we launched back in 2019. A core value that is considered in every business decision, we make sure that choosing one of our Nomadic Washrooms' fleet is a positive for you and your event, but also a positive for the world.
From eco-friendly soaps to supplying communities in Bangladesh with new toilets and washroom facilities, learn all about how hiring a Nomadic Washrooms unit for your event in the UK can have a positive impact across the world.
We also actively seek out and partner with like-minded sustainable businesses in the events and hospitality industry. All of these eco-friendly suppliers are included in our Green Partners List, to make it easy for you to find the best environmentally conscious operators for your event.
To offer sustainable and eco-friendly luxury washrooms and toilet hire for events across the United Kingdom, ensuring that our actions have a neutral or positive effect on the environment.
What We Do For
SUSTAINABILITY AT NOMADIC WASHROOMS
The outdoor events industry is typically behind the times when it comes to being eco-friendly and sustainable activities. Common issues like the logistics involved to create events, single-use products and the high level of waste generation are just three areas that the industry must address to become more sustainable and friendlier to the environment.
At Nomadic Washrooms, from our launch, we wanted to make the hire of our luxury shepherd toilets and washrooms be true to its nomadic ethos. For all of our operations, we search for the most sustainable solution, ensuring that the positive experience our guests have, is also positive for the environment.
Below are some examples of what we do at Nomadic Washrooms to offer eco-friendly toilet and washroom hire for events across the UK.
Refillable Soaps
All of our soaps, body wash and handwash are supplied by the geniuses at Fill, a zero-waste closed-loop refill company. Eradicating the need for single-use plastics, each time we replace any of our dispensers in our washrooms, we simply clean out and refill the original ready for it to be used again.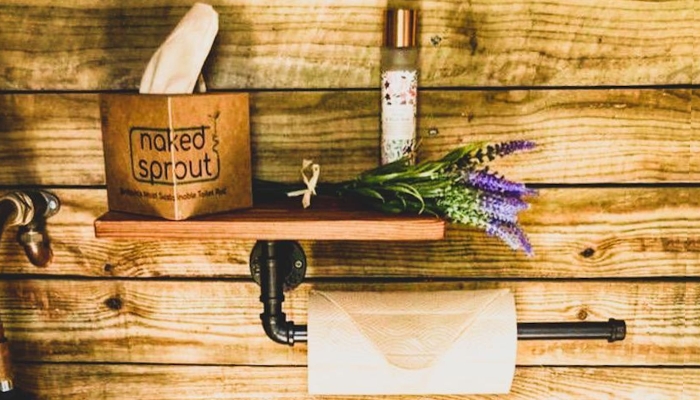 Bamboo Tissues
We ethically source all of our toilet rolls and tissue paper from Naked Sprout. This amazing company manufactures all of its products using bamboo, with no bleaching agents or cosmetic additives in their carbon-neutral factory. To complete the process they also ensure that all product delivery is carbon neutral too.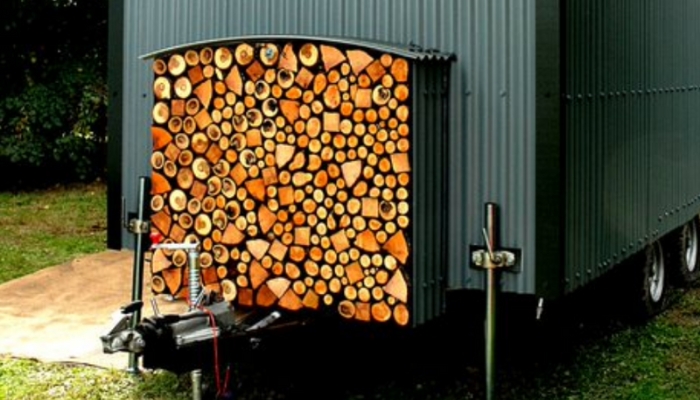 Carbon Off-Setting
We partner with the charity Self Help Africa to Carbon Offset all of Nomadic Washrooms' operations. This is done by calculating our utility bills and measuring their impact on the environment, then planting trees to offset our impact. Last year, we collaborated with Self Help Africa to plant a total of 514 trees, 47 in the UK and 467 in Africa.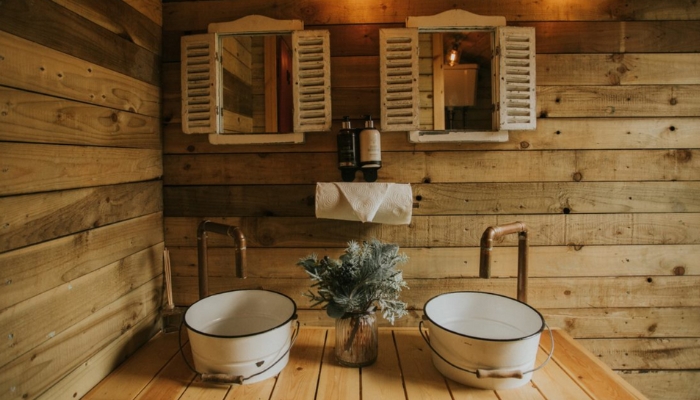 Green Partner List
We also research and partner with other eco-conscious businesses within the outdoor events industry. This allows us to go beyond just washroom hire, helping our clients easily find the best sustainable providers of locations, structures, caterers, special features and more. These can be found in our Green Partners List.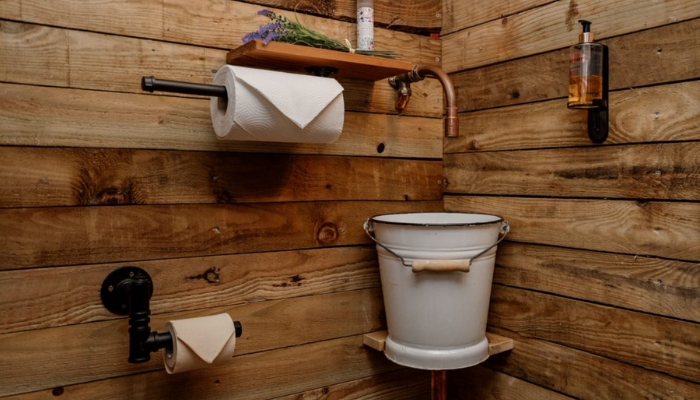 Extensive Research
To ensure that every product and supplier we work with has the same values as us, we conduct extensive research before making any purchase decisions. This includes learning about what materials are used, where they are sourced, their manufacturing and transport network, their usage impact and finally, their end-of-life disposal.
The events industry unfortunately is not traditionally known for its sustainability practices. The fleeting nature of events with large numbers of guests is typically accompanied by excessive plastic waste, high-transport miles and several other actions that can have a negative impact on the environment.
So, we created the Nomadic Washrooms Sustainable Partners list! Populated by trusted suppliers who we have personally worked with (some even hired by us for our special day). Our goal is to take the stress out of sustainable events organising and to help you find suppliers that will have a positive impact at and beyond your event.
Nomadic Washrooms And
Self Help Africa
Nomadic Washrooms and Self Help Africa go back to 2017 when we were sampling food for our wedding day and stumbled across their stall. We decided on the spot, that as an alternative to buying 'Wedding Favours' for our wedding guests, we would make a donation to Self Help Africa. Following our wedding day, we then decided to have an extended honeymoon and climb Kilimanjaro, raising £15,000 for the charity.
In the following year, Nomadic Washrooms was founded and one of our core values has always been to operate ethically as a business, so we got back in touch with Self Help Africa.
In our first year, we joined the Carbon Off-Setting scheme and helped to plant 514 trees, 47 in the UK and 467 in Africa. Helping us to offset our Carbon footprint, and helping small businesses and farms in Africa by increasing their productivity and output.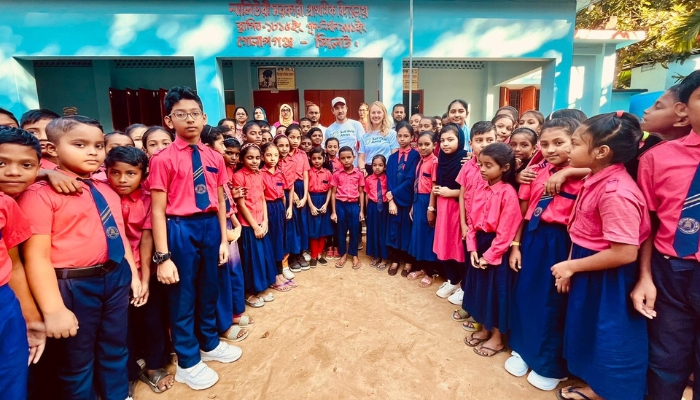 As Nomadic Washrooms grew, so did our partnership with Self Help Africa. We volunteered as the main sponsor for The Blue Schools Plus project. This project aimed to provide facilities and education for young people in the Chittagong Hill Tract region of Bangladesh to create positive behaviours around water, sanitation, hygiene, nutrition, and the environment.
We committed to raise at least £6,000 to help fund the construction of 25 toilets. This involved a donation from our business itself alongside several fundraising events including a Charity Ball, Murder Mystery Night and more.
To add to our sponsorship and donation, we also arranged and planned a trip to Bangladesh in the off-peak season to see The Blue Schools Project first-hand. Included in this tour were visits to the schools and communities that will benefit from the project and several meetings with authorities and community officials to discuss what more could be done in the areas.
For the future, we are already planning more projects together with Self Help Africa and we are excited to share them all with you. If you are interested in finding out about how you can do your bit, then please feel free to Get In Touch.
If you are interested in finding out more about our sustainability actions, how you can get involved or hiring one of our luxury toilets or washrooms for your event, festival or wedding then please get in touch using the contact form below.
All enquiries are handled by us personally; so to help us give you the information you need, please provide us with information on when, where, and what you are planning (along with details of your estimated number of total daytime and evening guests) and we will get back to you with a personal quote!