At Nomadic Washrooms, we have had the pleasure of attending some great events, festivals, weddings and more with our flock of luxury shepherd hut style washrooms. Although 2020 was cut a little short for everyone, we still managed to make some amazing trips that we wanted to share with you. In this blog, we pick out some of the best trips from 2020 that we made with Nomadic Washrooms!
Glamp Ridge, Buckinghamshire
The Little Shepherd's debut appearance will live long in our memory for all the right reasons. We got contacted by Chris Wells at Big Top Events (check them out) for one of our luxury shepherd hut washrooms to feature at a pop-up bell tent glamping weekend in Deans Farm Meadow, Bledlow Ridge, Buckinghamshire.
The booking was for a lovely sunny weekend in early September and the event included 12 tents with 25 people glamping for 2 nights. We delivered The Little Shepherd on-site and had a tour around the beautiful location which you can see from the photos.
The two days were filled with adventures and the evenings were filled with some incredible entertainment. Friday evening included bingo and campfires with toasted marshmallows (so Stu was happy) and Saturday night had live music, street food and G&T's (so Kate was happy).
The Little Shepherd did us proud and we had fantastic feedback from the guests on our luxury loos and showers. We now have several more glamping weekend bookings in the diary and we will definitely be working with Chris at Big Top Events again.
If you would like to find out more about booking Nomadic Washrooms for your glamping weekend, corporate event, wedding or festival then check out our Luxury Washrooms For Hire.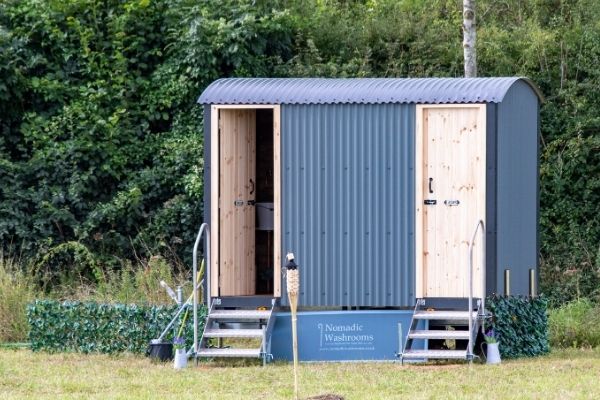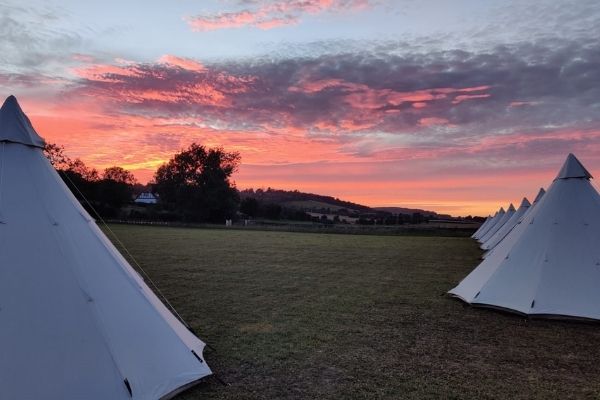 Cheltenham Yurt Hire Open Weekend, Gloucester
This was another first for us, this time it was our first socially-distanced event at Nomadic Washrooms. We were contacted by the amazing team at Cheltenham Yurt hire for a showcase of their amazing range and the partners they work closely with for wedding hires.
The event was based just outside of Gloucester on what turned out to be a windy weekend at the end of September. Both of us attended along with The Little Shepherd and we met so many friendly couples who were waiting to tie the knot. We also had the chance to nose around other promoters there and made some great connections within the industry.
One of those connections was the lovely Isobel Noscoe of Pickled Ginger, who then worked with us to perfect our Nomadic Washrooms branding and promotional flyer. In addition, we finally got to meet the people behind Cheltenham Yurt hire, including David and Abby who are just the best!
If you are looking for any branding or promotional packages please check out Pickled Ginger and if you are looking for a unique wedding then look up Cheltenham Yurt Hire! As always, if you are looking to hire any of our flock of luxury shepherd hut toilets then simply get in touch with us at Nomadic Washrooms.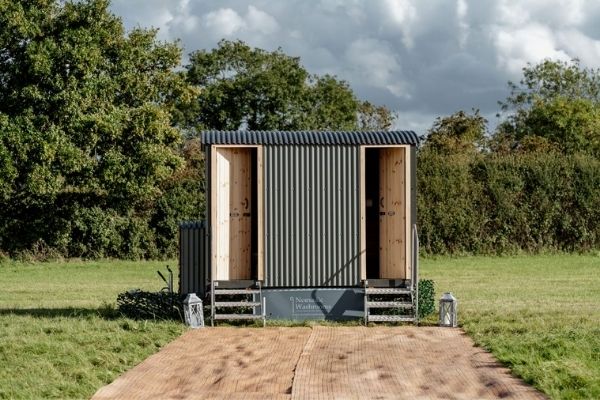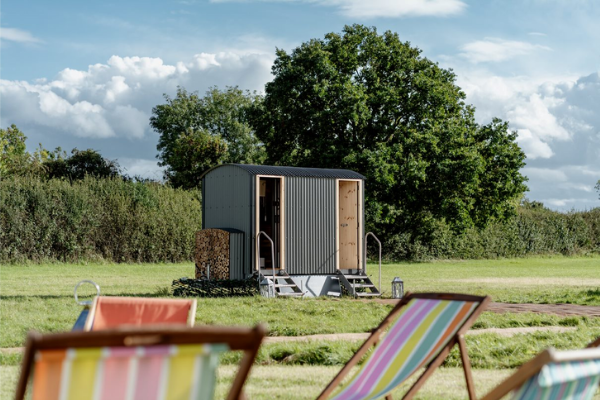 On set for the BBC's 'The Repair Shop', West Sussex
When having the idea of luxury shepherd hut washrooms for hire after our wedding we never would have dreamed of having two units on a BBC television set. But, that's exactly what happened last year when we had The Master Shepherd and The Shepherdess on set for 'The Repair Shop'.
Although they didn't get their 15 minutes of fame by being on camera, they did steal the limelight behind the scenes. The crew and cast of the show loved our units with so many amazing compliments. We also have had a repeat booking for 2021 with the same two units heading back down to Weald and Downland Museum in West Sussex for the start of filming in March.
If you want our unique shepherd hut toilets or washrooms for long term hire then please send us a message.