We have had another crazy and exciting night to remember in the Nomadic Washrooms story in October, and we are delighted to announce that we won another award. Still slightly in shock from our award for the Best Tourism & Leisure Business at the Wales StartUp Awards, this time we have the 'Best Start-Up 2022' Award from the Powys Business Awards to proudly display on our shelf.
So, to go with another award, here comes another blog about how proud we are of how far we have come, how excited we are for the future, and how thankful we are for everyone's continuous support. Also, we had to post our new video of 'Stu The Poo' being a complete natural in front of the camera on our website somewhere!
What are the Powys Business Awards?
An annual awards ceremony that was founded over 10 years ago, the Powys Business Awards showcase and celebrate the very best of businesses and entrepreneurs in the Welsh county of Powys.
Organised by Mid Wales Manufacturing Group (MWMG), with the support of several sponsors, these prestigious awards include 9 set categories. Designed to celebrate all of the best businesses in Powys, with awards available for businesses of all sizes. Each of these award winners is then entered into the Powys 'Business Of The Year 2022' award, which is judged by Powys County Council.
There are also special discretionary Judges Awards, which this year was sponsored by CellPath, to highlight and celebrate outstanding individual or business achievements for anyone that they believed deserved recognition, but just missed out on a category award.
NOMADIC WASHROOMS AT THE POWYS BUSINESS AWARDS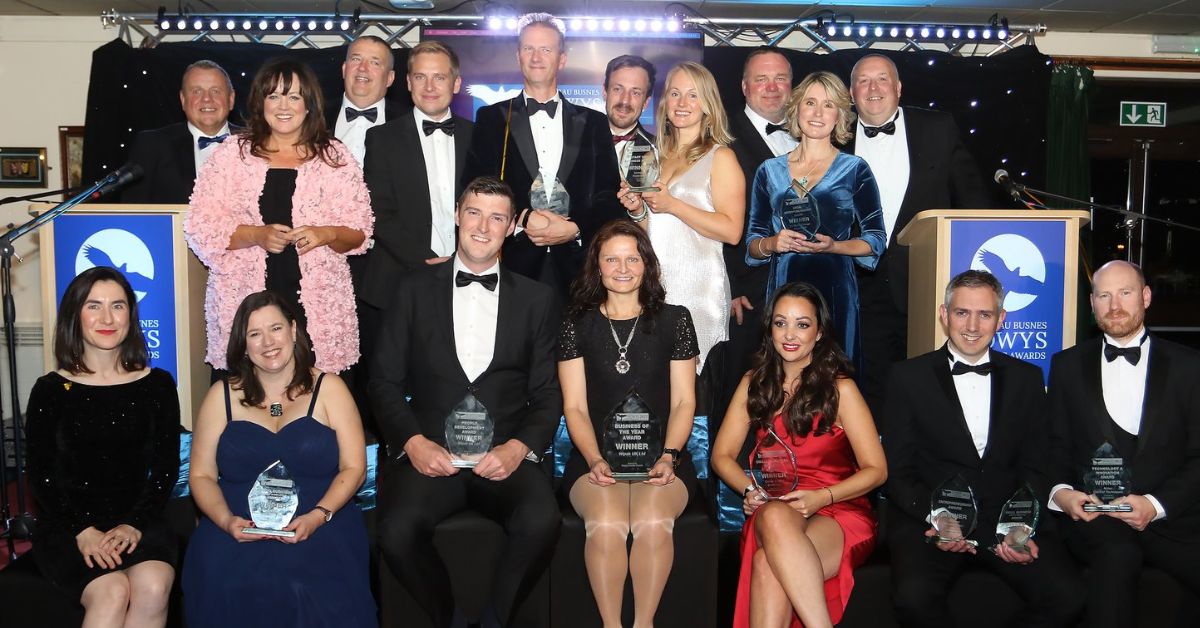 The Powys Business Awards say on their website that the 2022 awards really showcased the diverse range of successful enterprises within Powys, and we couldn't agree more. Nomadic Washrooms were in great company at the awards, as one of the 23 finalists, it was so insightful and amazing to see what amazing things are being achieved in Powys.
This year's awards got us all scrubbed up again (starting to get used to this) for a black tie event at Dering Lines in Brecon on Friday the 7th of October, hosted by BBC Radio Wales Breakfast news programme presenter Claire Summers.
Just honoured to be shortlisted for an award, we attended the event with little expectations and were just happy to be invited to celebrate the success of businesses in Powys. 
Nomadic washrooms – Best Start-Up Award Winner 2022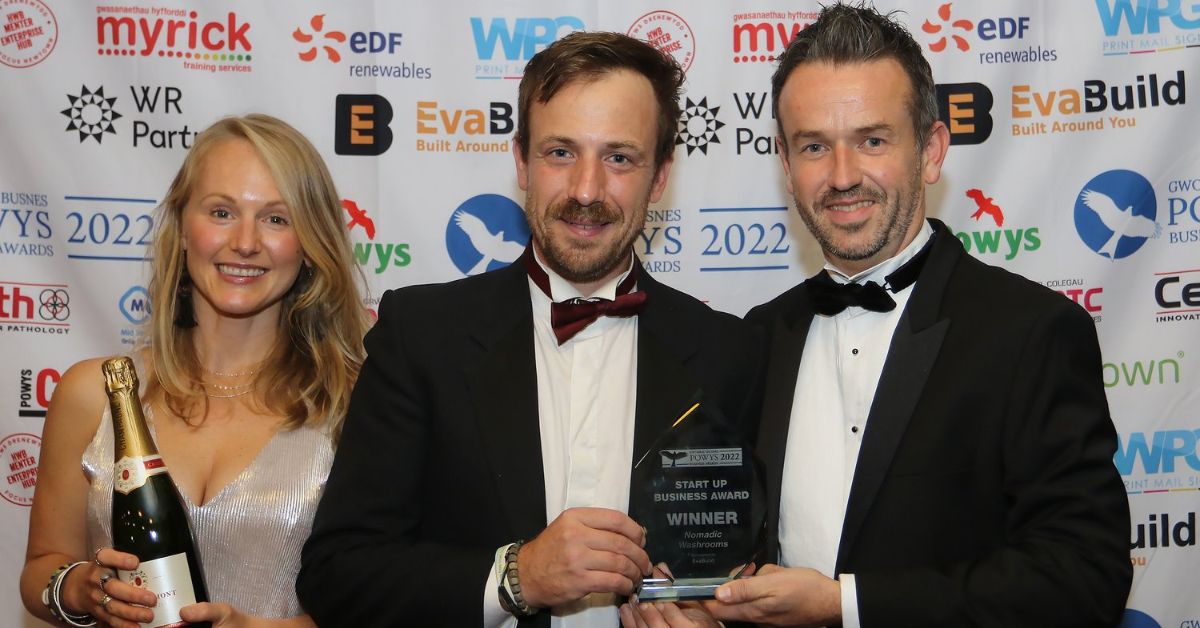 The Start-Award is open to any business that has been trading for less than 3 years at the time of application. Within the criteria required to be considered for the award, the business must demonstrate the progression and expansion of the business in line with its business plan. Add to this inside-out knowledge of the business, understanding of the products and/or services offered, the competition and the marketplace.
After several years of living and breathing Nomadic Washrooms, we filled in the application after suggestions from friends and other businesses in the area. Not too sure what to expect of the whole process, we were ecstatic when we were contacted by the Powys Business awards to let us know that we had been shortlisted for the award. In prestigious company, the other finalists for the award included Bryndu Caravan and Camping from Brecon and Mesh Telematics Limited from Machynlleth.
The 2022 Start-Up Award was sponsored by EvaBuild and had a thorough application process that includes a site visit and the filming of a video explaining the business. A new experience for us at Nomadic Washrooms, the media team were great on their site visit to us at our main base in Forden.
No stranger to doing anything for the business; Stu has spent many hours knee-deep in our washrooms and toilets, carrying out essential maintenance and cleaning services. Arguably much more comfortable doing that, than standing in front of a camera, the media day was a completely new experience to add to the Nomadic Washrooms story.
LUXURY TOILET AND WASHROOM HIRE 2023
Now looking forward to the end of another busy Summer period supplying the best luxury toilets and washrooms for hire all over the UK, the Start-Up Awards at both the Powys Business Awards and the Best Tourism and Leisure Start-Up in the Wales Start-Up Awards, have been the icing on the cake.
Patiently awaiting our break to recharge our batteries, we are already excited for 2023 and the amazing plans we have for Nomadic Washrooms moving forward!
Luckily for us, we have a great team around us, fully capable of holding the fort. So, if you are looking for any information about Nomadic Washrooms, or if you would like to hire one of our luxury toilets or washrooms for an event, please don't hesitate to Get In Touch. Alternatively, if you want to follow our start-up journey, follow us on Instagram.