At Nomadic Washrooms, we are over the moon to announce that we have won the award for 'Best Tourism & Leisure Business' in the National StartUp Awards. An award that has come as a bit of a shock to us, as we were excited just to be nominated, we are almost pinching ourselves.
After starting Nomadic Washroom 4-years ago, to say everything has been a little crazy would be an understatement. From finding our feet in a new industry to lockdowns and everything in between, to be shortlisted was an honour. But, to win it means so much to us!
As we are so submerged into our little Nomadic Washrooms world, we are most likely guilty of not appreciating how far we have come and what we have achieved. So, in this blog, we wanted to take a moment to reflect on our journey and to share with you all how grateful we are for your continuous support.
A LITTLE ABOUT NOMADIC WASHROOMS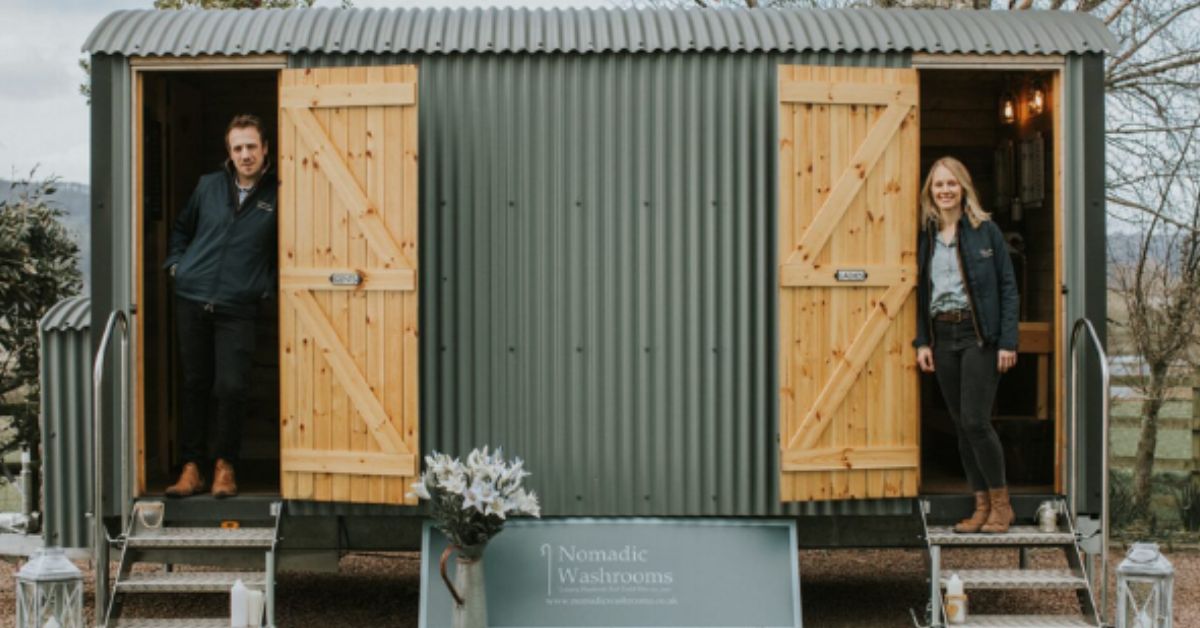 What started as a simple idea after we struggled to find luxury toilet hire for our wedding back in 2018, we couldn't be prouder of how far Nomadic Washrooms has grown in 4 years. Now busier than ever, and with more shepherd hut-style washrooms being added to our fleet. Our units are touring every corner of the United Kingdom weekly, providing a touch of glamour to the washroom facilities of weddings, festivals, tv sets, corporate events, glamping weekends and more.
So, when we got the news at Nomadic Washrooms that we had been shortlisted for the award of 'Best Tourism & Leisure Business' in Wales we were ecstatic and also extremely proud. To then win the award is just unbelievable.
Starting a business whilst both working is challenging to say the least. From the many late nights and full weekends of working thanks to choosing to start a business in the hospitality sector, we can't say that it has all been plain sailing. Add to this, the Covid-19 pandemic and the complete pause of all events and gatherings for over a year, to be awarded such a prestigious award in recognition of everything we have done is almost overwhelming.
We would like to take this opportunity to say that we are more than grateful for all of the support we have received from friends and family since we launched; and also for every one of you who has chosen our fleet of luxury washrooms to be a part of your event or special occasion. Without every single one of you, Nomadic Washrooms wouldn't be where it is today, with loads of exciting plans for the future, we cannot wait to continue to share this journey with all of you. 
Special Government Recognition
In addition to our award, we also received a special letter from Vaughan Gethin, the Minister for Economy in the Welsh Government. The letter congratulated us, before going on to compliment our commitment and hard work to make Nomadic Washrooms a success. The letter has been another surreal moment in the past few months and has only added to our motivation to keep growing Nomadic Washrooms further.
What are the National StartUp Awards?
Now in its 15th year, the National StartUp Awards is one of the most prestigious awards any start-up in the UK can be nominated for. Receiving more than 5,000 applications each year, and with previous winners have become household names such as Purple Bricks, Bulb and Glasses Direct, to name a few.
The awards were started when the Great British Entrepreneur Awards and Wales Start-Up Awards collaborated to celebrate the best new business founded in the UK every year. 
As stated on their website, the StartUp Awards National Series recognises entrepreneurs who have taken a good idea, turned it into an opportunity, and taken the risk to launch a new product or service.
Applications to be considered for the awards begin at the start of the year, with all of the applications being judged by some of the most highly-respected entrepreneurs in the UK who whittle the applicants down to a shortlist. After the shortlist is announced in March, the judges then research each business further before deciding on the winner which they announce at the awards ceremony in June.
The Wales region awards for 2022 were hosted in Cardiff, on coincidentally our anniversary, which gave us another reason to crack open the bubbly.
The Future Of Nomadic Washrooms
After enjoying our 5 minutes of basking in the sunshine whilst reflecting over the past four years, for us, we are now more excited for the future of Nomadic Washrooms than ever.
As we come to the end of our best-ever Summer season, providing luxury portable toilets and washrooms to events, weddings, festivals and more, all around the UK;  it is time for us to take a small break to recuperate and for us to live up to our 'nomad' name.
Once we have travelled some new corners of the world and recharged our batteries, we will be back and fully motivated. Ready to share with you our many exciting plans for the future of Nomadic Washrooms.
Luckily for us, we have a great team around us, fully capable of holding the fort. So, if you are looking for any information about Nomadic Washrooms, or if you would like to hire one of our luxury toilets or washrooms for an event, please don't hesitate to Get In Touch.
Alternatively, if you want to follow our start-up journey, follow us on Instagram.